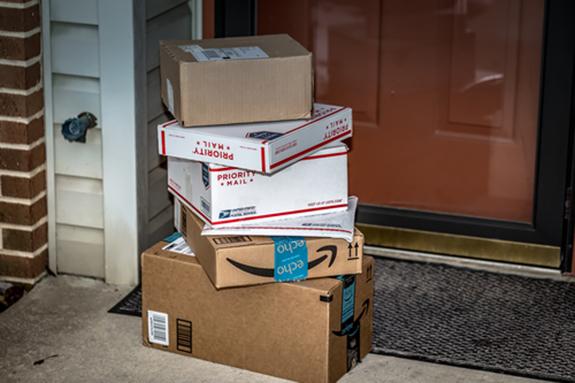 2014 marked nearly 15,000 home thefts during November, December and January, according to Nationwide claims data.
"The holidays are a festive time, but there are lots of moving parts and it's hectic—people get lost in it," says Lisa Lindsay, executive director, Private Risk Management Association. "Absent a plan, they're likely to not pay attention to things that are important."
Don't let the Grinch steal Christmas by using these four tips:
Prepare for Porch Pirates
In 2016, nearly 26 million Americans had a holiday package stolen from their front porch or doorstep, up from 23.5 million porch thefts reported in 2015, according to a study released by InsuranceQuotes.
As online shopping becomes more popular, increasing the number of deliveries to homes, clients should be prepared for these types of  porch pirates.
While technology like smart motion detectors and cameras can alert you when someone's on your porch, Lindsay says there are also "some simple things that don't require an investment in technology."
Tips include making sure you're home when you're expecting a delivery, sending deliveries to your office, asking a neighbor to take in a package or utilizing a pickup service such as Amazon Locker, which "allows you to pick up a package at your convenience," Lindsay says.
Protect Information Online
 In 2017, fraud attempts between Thanksgiving Day and New Year's Eve increased by 22%, while the number of online transactions increased by 19%, according to ACI Worldwide, an electronic payments solutions company.
When shopping online, "make sure you're on a secure site"—one marked with "https," Lindsay says. A secure site is marked by a small padlock item in the corner of the URL and, compared to websites that begin their URL with just "http," that extra "s" literally stands for "secure."
Second, "use credit over debit," Lindsay says. "With a credit card, you have some recourse if somebody steals your information. As we all know, a debit card comes right out of your bank account." Of course, looking out for any unusual activity on bank statements or credit reports is another important preventative measure to guard against online fraud.
And never do something like this: You're at the mall and you can't find the gift you're looking for, so you decide to sit down, log in to the public Wi-Fi and start searching for it.
"It's through the use of public Wi-Fi that your personal information is transmitted, and there are people out there that are seeking to capture it," Lindsay says. "I would really encourage people to use a secure network or wait until they get home to make that purchase."
Leave the Lights On
Your clients might be headed out of town this holiday season, but remember: Crime doesn't take a vacation.
That's why it's important to "make sure it appears like you're home," says Lindsay, who recommends putting a stop on newspapers and mail, as well as leaving lights on. After securing the premises and making sure alarm systems are in working order, "we also recommend that people have someone check on their home while they're away," she adds.
Source:  iamagazine.com